Eisriesenwelt – Gates to Hell or the Kingdom of Ice Giants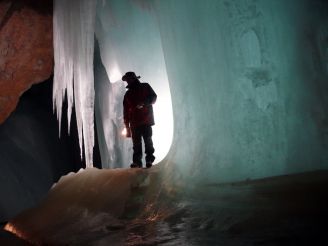 Austria has always been famous for its wonders: medieval castles, luxury palaces, parks… But only a few people know that the world's largest ice cave is situated here in the Alps. Underground corridors of the Eisriesenwelt go inside the mountain range for 42 kilometres. The cave has been formed due to natural actions of the Salzach River, which has been washing out huge caves and cracks during millions of years. The ice inside the cave never melts, as the temperature is always below zero. That's why the cave is called "the Kingdom of Ice Giants."

The Eisriesenwelt was discovered not so long ago. No one knew about it by the end of the 19th century. What is more, people tried to avoid it. Local people believe that its underground caves lead to hell and he, who makes his step towards them, will never come back again. This legend was first broken by the naturalist Anton von Posselt, when in 1879 he first came down to the Eisriesenwelt. A year later, he published a detailed report about his discovery, but it was left without authority's attention. And the ice cave was forgotten again. Only in 1920, the first research point was opened here. Since then, the Eisriesenwelt has become a very popular place.

The number of tourists significantly increased in 1955, when a cableway was opened from the foot of the mountain to the cave's entrance. Now, it will take you not more than three minutes to get to this fantastic height. The cave is open for visitors from 1 May till 26 October.

The Eisriesenwelt meets tourists with its huge entrance hall, where they can see stalactites and stalagmites, ice towers and frozen rivers. If you go further, you'll see an ice embankment, a hall with an ice organ, a palace and much more. The whole route will take you a little more than an hour, but this time is enough to enjoy the beauty of this wonderful underground world.

In general, you should have around 3 hours for this trip. And don't forget to take warm clothes and cleats with you, as it is quite slippery in the cave. You should also take a hat to protect yourself from the cold drafts, and gloves to hold icy handrails. For tourists' safety, it is prohibited to take pictures and video inside. But you can watch and download the photos on the official web-site of the Eisriesenwelt. Besides, you can buy post cards with the views of the cave at the entrance, to keep in memory the "Kingdom of Ice Giants" you once visited.

It's better to visit the cave in warm seasons, when the difference between the bright sunlight and the cave's darkness, warmth and cold is especially rough. Such temperature drops will always stay in your mind.
Original language
Читайте также
Vatican is the main town of all Catholics, a holy place and a shelter. Its territory is occupied by unique architectural structures: cathedrals, churches, museums, including the world famous Vatican Library and Sistine Chapel.
Austria is a cosy country situated in the very heart of Europe, at the foot of the majestic Alps. The country location secures its image of the best ski resorts land.
It's quite hard to find more romantic country than France. Everywhere you feel love and unbridled desire to live enjoying every day. Spring in Provence is especially beautiful.