Experience the Wonders of a Mekong River Cruise - What You Can Expect to See
When you embark on a Mekong River cruise, you can journey through Southeast Asia's enchanting landscapes. The Mekong River, which flows through six countries, offers a glimpse into the region's rich history, culture, and natural beauty.
This article will highlight what to expect from a Mekong River cruise and the wonders you can experience along the way.
Copyright: Tom Fisk on Pexels | License: CC0 Public Domain
Diverse Cultural Experiences
One of the most appealing aspects of Mekong River cruises is the diverse cultural experiences it offers.

The Mekong River flows through six countries, each with its unique culture, heritage, and traditions. Travelers can immerse themselves in the local life and witness the daily routines of the people living along the riverbank.

From visiting floating markets and learning about traditional craft-making to participating in local festivals and ceremonies, a Mekong River cruise provides an opportunity to experience authentic local culture.

Whether exploring the ancient temples of Cambodia or sampling the street food of Vietnam, a Mekong River cruise is a journey of cultural discovery.
Historical and Cultural Sites
A Mekong River cruise offers a wealth of historical and cultural sites to explore. Along the river, travelers can visit ancient temples, pagodas, and historical landmarks that provide a glimpse into the region's rich cultural heritage.

In Cambodia, the UNESCO World Heritage site of Angkor Wat, the largest religious monument in the world, is a must-visit destination.

Vietnam's Cu Chi Tunnels, used by the Viet Cong during the Vietnam War, offer a sobering glimpse into the country's tumultuous history.

The Laotian city of Luang Prabang is home to countless temples and monasteries, providing insight into the country's rich Buddhist heritage.
A Mekong River cruise is an opportunity to explore the region's history and culture firsthand.
Wildlife and Natural Wonders
The Mekong River and its surrounding areas are home to a diverse range of wildlife and natural wonders.

From rare bird species to exotic flora, travelers can witness an array of unique and fascinating ecosystems.

The Tonle Sap Lake in Cambodia is the largest freshwater lake in Southeast Asia, and during the wet season, the lake swells to ten times its size, creating a haven for fish and water birds.

The Irrawaddy dolphin, one of the world's rarest mammals, can be spotted in the river's upper reaches.

The Mekong River also flows past numerous natural wonders, including the Khone Phapheng Falls in Laos, the largest waterfall in Southeast Asia.

A Mekong River cruise is a journey of discovery into the region's incredible biodiversity.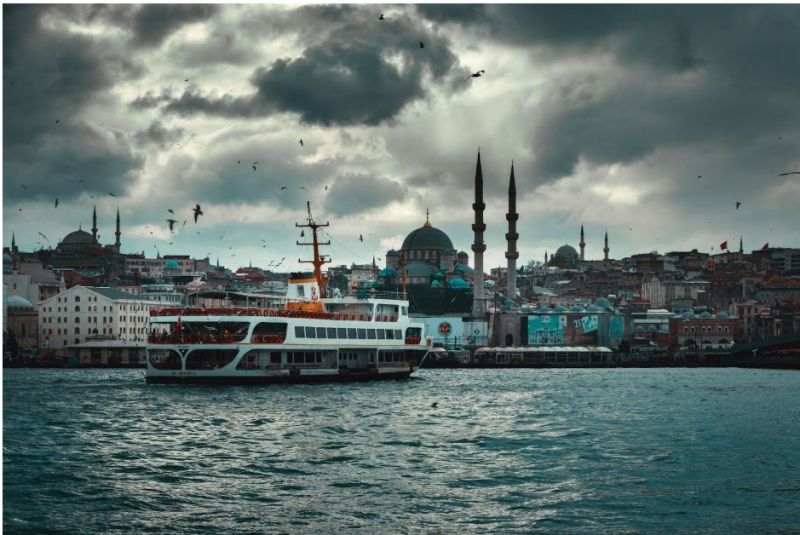 Copyright: Levent Simsek on Pexels | License: CC0 Public Domain
Relaxation and Wellness
A Mekong River cruise offers the perfect balance of adventure and relaxation, with many cruises providing onboard wellness activities. Passengers can enjoy yoga classes and meditation sessions while taking in the serene scenery of the river.

Many cruises also offer spa treatments and massages, allowing travelers to unwind and de-stress while on their journey.

In addition to wellness activities, Mekong River cruises provide a peaceful and comfortable environment for relaxation, with comfortable cabins and lounges providing the perfect spot to read a book or simply take in the views.

A Mekong River cruise is a perfect opportunity to recharge and reconnect with oneself.
Unique Local Experiences
This type of cruise presents one of the best chances for visitors to get a close-up look at local traditions and culture. Travelers can fully immerse themselves in the culture by visiting floating markets and tasting native cuisine.

Numerous cruises provide excursions to isolated villages where travelers can meet locals and learn about their daily routines and cultures. Additionally, tourists can take part in regional festivals and rituals for a genuine and fascinating cultural experience.

A Mekong River trip offers the ability to learn more about and appreciate the area's rich cultural legacy, whether through participating in traditional crafts or visiting historic temples.
Stunning Scenery
The Mekong River and its surrounding areas offer breathtaking views of Southeast Asia's natural beauty.

As the river flows through half a dozen countries, travelers can witness a diverse range of landscapes, from towering mountains to serene countryside, bustling cities, to remote villages.

In Vietnam's Mekong Delta, verdant rice paddies and palm-lined canals provide a tranquil setting for a river cruise.

The rugged mountains of northern Laos are home to stunning waterfalls and hidden caves, while the picturesque town of Luang Prabang sits at the confluence of the Mekong and Nam Khan rivers.

A Mekong River cruise offers an opportunity to experience Southeast Asia's natural wonders up close.
The Wonders of the Mekong River Cruise: Seeing Is Believing
A Mekong River cruise is an unforgettable adventure that allows you to explore Southeast Asia's stunning landscapes and immerse yourself in its vibrant culture.

From bustling cities and remote villages to ancient temples to lush jungles, the Mekong River offers a diverse range of experiences for travelers. If you're seeking adventure or relaxation, a Mekong River cruise is sure to provide a memorable journey of a lifetime.
View translation
Originals are available
in such languages:

Original language
Читайте также
Among the Alpine peaks in the heart of Switzerland, a unique resort is located. Bürgenstock has always been famous for its beautiful scenery, an abundance of fresh mountain air, and tranquillity.
In the north-west coast of France, there is an island often referred to as the eighth wonder of the world.
December 23 all the fans mind-blowing tricks and slalom celebrate young holiday - Day of snowboarding.