Athens: the spirit of history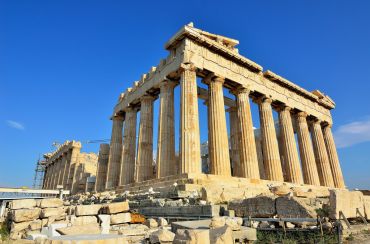 If you want to plunge into antiquity ceduyu in alluring world of bygone eras - come to Athens! Here you can see the magnificent ruins of the Hellenistic civilization, the ruins of the temples of ancient Greece, fully feel the spirit of Greek history. It is a city of the first Olympics, the city of Socrates and Plato, Aristotle and Sophocles, a city of art, the cradle of democracy. There are a large number of ancient monuments, fascinating museums around 250. And in Athens felt permanent holiday atmosphere.
Symbol of Athens - Acropolis in whose territory many temples with columns and statues. Parthenon temple built in honor of the patroness of the city of goddess Pallas Athena. There was a time when there was a statue of her, decorated with ivory and gold. Impressive elegant theater of Dionysus - the oldest in Europe. Especially beautiful Acropolis evenings, in a blaze of lights - with its rolling hills with a spectacular panorama of Athens and the surrounding area. Temple of Hephaestus at the Agora and the famous Temple of Zeus, the Tower of the Winds of marble and is the tallest building of the capital Athens Tower. Attractions Athens hit its grandeur and scale!
And it's nice to walk through the picturesque old quarter of Plaka, has retained its historic look. It attracts its small narrow streets, rows of houses built peculiar, souvenir shops, cozy restaurants. For shopping you can go to Monastiraki quarter. It sells a variety of interesting and unusual things that charm charmed strangers. But for designers is a great place where you can buy rare items for interior decoration of Athens restaurants. On the main city square Syntagma Greek Parliament located in the former Royal Palace, a monument to the Unknown Soldier, various statues and a large fountain. Kaisariani Monastery please unusual architecture and healing springs. About sparkling tops his past tell ancient Piraeus.
Modern Athens - it's full of life, with a population of about four million people, concerts and festivals, attractions and carousel, zoo "Attica" public beaches. Cozy taverns and restaurants offering Greek cuisine copyrights seafood, lobster with feta cheese, salads, exotic desserts, light red wine. Many places around the clock, unlike most stores and malls, closed on Sunday.
Athenians - cheerful people. Rare weekend go without holidays, festivals, vibrant theater and music performances. Athens city center - an area quite calm and safe, except that during the carnivals there is a danger to be strewn with confetti!
Original language
Читайте также
Greece is an amazing country indeed. It is the motherland of myths and exact sciences.
Summer is over, but that's no reason to be sad. On the contrary, in front of the velvet season - a time when the sun does not burn its rays, when the water is still warm and the sea with a fresh breeze blowing. The fall of many of the world resorts ar
You can read your favourite book over and over. You can memorize your favourite phrases or adopt habits of the central character. We offer you to travel the route of a book.