Summer on the edge of Europe – Northern Norway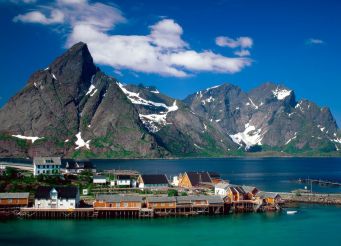 How about spending your summer beyond the Arctic Circle? The Barents Sea and the Norwegian Sea meet there, in the country of majestic fjords and fantastic sceneries. Northern Norway is the territory of the midnight sun and magical aurora.
One of the most interesting places in Norway is North Cape, which is often referred to as "the world's end." From its top, where a special viewpoint is situated, one can see a unique phenomenon – midnight sun. Starting from the mid May and till the end of July, the sun doesn't set at all here. By midnight it comes closer to the horizon, turning the sceneries into gold colours. After that it rises again. Besides, here you can enjoy the beauty of the northern lights, which are gently reflected in the ice cold Arctic waters. Best of all they can be seen in winter season, as in summer the sky is too bright to see them.
North Cape is located on Magerøya Island. It is quite far from the capital and other big cities. But the transport system is perfectly developed there. Busses frequently run between all the towns of the island. The cape can be reached by sea – you can use a ship or a ferry. Also by land – through the tunnel which is part of the route E69 – by using a private vehicle or a tourist bus. Don't forget to put on warm clothes, as even in summer the temperature seldom exceeds the point of +20 °C. Sometimes snow doesn't melt here all year round.
Tourists can stay in the original fishing village of Honningsvåg, which lies not far from the cape. More than a hundred of cruise vessels enter its port every year. By the way, you should not forget that Norway is a "Mecca" for fishermen. So all the necessary facilities for а successful fishingare available here, in the village.
If you prefer more active rest, you are advised to go to Cape Nordkyn. It is not far from North Cape. Its harsh wilderness will definitely impress those seeking for adventures. 14 hiking trails of different levels of complexity across the cape have been created here. Their total length is about 250 kilometres. You can go hiking both alone or with a professional guide. Cycling routes and bikes to rent are also available. For a night tourists can stay at a hotel, a mountain cottage, in a fisherman house or even at a lighthouse.
First of all Norway will be extremely interesting for those who are fond of nature. Norwegian fjords give a feeling of endless freedom, a feeling of a bird soaring high in the sky. If you're a dreamer and if your soul is fulfilled with romance, if you want to feel like a discoverer, Norway is the best place for spending your vocation.
Original language
Читайте также
County Cornwall is located in the south-west of England and is a favourite destination of many families.
Ah, the sun temperamental Spain, with its many islands of paradise! In this wonderful country living happiness itself. Here, everything is steeped in romance: gentle dawns, sunsets, mysterious, magical nights, quiet coves with beautiful beaches and co
Canning Stock Route is the longest, one of the most severe and dangerous tourist paths in the world.