Cornwall is a Favourite Family Retreat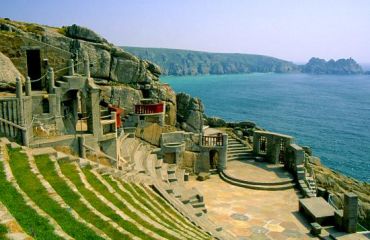 County Cornwall is located in the south-west of England and is a favourite destination of many families. This place is a retreat from the hustle and bustle of city life. Though, it doesn't mean it lacks all the attractions.

The most popular family vacation destination in Cornwall is the Flambards Theme Park. Its vast territory hosts everything for an unforgettable family vacation: water slides, thrilling rides, shows and souvenirs crafts, rope trails of various difficulty levels and more. The park is open from 10:30 am to late hours.

The Cornwall's Crealy Great Adventure Park is also worth visiting. Its attractions have no age restrictions. Children, parents and grandparents will find their points of interests here. It features the most fantastic rides, Animal Park, play area for kids, swing and many others. The park quite often hosts concerts and festivals designed for very different audiences.
Screech Owl Sanctuary is very different from usual leisure places. A vacation here will surely be remembered as a fun for the whole family. While walking through the park the tourists are introduced to various types of owls living there in complete freedom. These birds are so used to people that often sit on hands without any invitation and just out of curiosity.
Couples with young children are recommended to visit the Lappa Valley. The area is very picturesque and almost virgin. In addition, there is the children's steam railway there. During rather lengthy stops passengers can play mini-golf, go along the fabulous labyrinth and walk in the meadows.

St Michael's Mount is a beautiful creation of nature and humans, and the most memorable landmark in Cornwall. Next to Mount's Bay there is a small island with an ancient castle on top. Many hundreds of years ago the castle was inhabited by the Benedictine monks. The monastery belongs to the early 12th century, though it still has its power and majesty. Tourists often come there not only for the sightseeing, but also to hold a family picnic at the foot of the medieval castle.

Cornwall takes a good care even of those tourists who are strictly limited with the family budget. A free tour is offered to the most unusual sight of Cornwall – Land's End. This is the extreme western point of England. A few kilometres away from the cape there is a town of Penzance. The pride of its residents is St Mary's Church built by the first Christians who came to the island a thousand years ago.
Another unusual place in Cornwall is the open air Minack Theatre. It was built on a cliff with a view on the picturesque bay. The Theatre is considered unique due to the possibility to see a raging sea behind its stage.

Original language
Читайте также
A man is known by his hobbies. They may be different, but some of them are common to most.
The most unusual and incomparable journey to London; an acquaintance with him from the height of bird flight. Take a look at the ancient city from the upper floors of skyscrapers and huge metropolis will appear in all its diversity at a glance.
Amazingly beautiful city in which architecture intertwined many different styles: Gothic, Baroque, Classicism, Modernism. The endless war and invasion, destruction and reconstruction have created the modern look of Budapest.