Singapore - Asia's culinary capital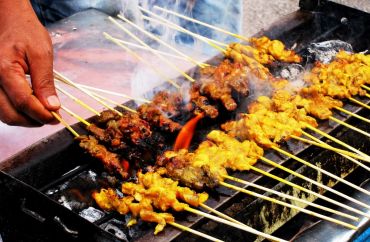 Word of Singapore for many fanned Wrath amazingly beautiful tropical paradise. This island city-state, belongs to the twenty smallest countries in the world. However, here a fairly high standard of living.

Their successful development of the country owes the English industrialist sulfur Raffles, who announced in 1819 that Singapore has become an open port. This rule and still bringing profit economy. Residents of the island respectfully refer to his benefactor, is named after him the most luxurious hotel in Singapore. Since our establishment, and that was over a hundred years ago in 1887, Raffles Hotel has a reputation as a paradise and haven for their guests. Stayed here Somerset Maugham, Rudyard Kipling, Alfred Hitchcock and Elizabeth Taylor.

Among the many restaurants in Singapore is the most popular bar Raffles. Here guests can relax and enjoy the pleasant atmosphere of a European. Main delicacy, which offer bar waiters, famous cocktail Singapore. Try it came all the eminent guests, and for good reason. After Singapore for many years called the culinary capital of Asia. Local delicacies are only "Singapore" taste, which originates from three cuisines: Chinese, Malay and Indian dishes. Therefore, chili, dried shrimp paste and coconut milk are part of most meals.

By the way, the food for the inhabitants of the island is not just the action, and a ritual, which devotes a lot of time. You will not find any Singaporean who ran on the go eats his breakfast. A gourmet recipes and new dishes - a favorite topic for discussion. So it is a paradise for gourmets. Here you can try flavored chicken with rice Hainanese, delicious crab cooked in a wonderful sauce, a hearty soup of pork ribs, thin Indian bread made ​​from rice flour, tender kebabs on bamboo sticks and more. For the sweet tooth is prepared traditional Singaporean dish called Ice kachang. It is a cold dessert, which includes sweet ice with different tastes: sweet corn, fruit, even offer red beans and aloe.

Those who love Japanese cuisine, the restaurant is worth a visit «Tatsuya Japanese». This is one of the best Japanese restaurants in Singapore with the highest level of service, wide range of food and lovely atmosphere. His unsurpassed culinary masterpiece is considered rice with slices of fish, seasoned with pepper, nuts, vegetables and anchovies.

If you wish to dine in a cozy place with amazing scenery night city, then choose a restaurant «Equinox» - this is the best observation platform. The restaurant is located at almost 230 meters altitude and is the 70th floor. It has a beautiful view of the city and harbor with many ships, cruise liners, luxury yachts. It offers excellent according to your taste international dishes, as well as a popular drink in Singapore - green tea. Traditionally, it is prepared with different additives: milk, cloves, ginger and lemon. Love here and alcoholic beverages, especially beer and gin-based cocktails.

Those who come to Singapore for the first time, it is useful to know what the laws are here strictly observed. Even the smallest violation can result in serious penalties. For example, pedestrians crossing the street at an undisclosed location, say goodbye to $ 50, smoking in public places face a fine of $ 500. And the import of chewing gum in Singapore in general is strictly prohibited. And not surprising, because many believe that the frequent use of its negative impact on the human taste buds. And for Singaporeans is the real crime.
Original language
Читайте также
For centuries, Prague is revered as one of the most beautiful and romantic places in the world. Wisdom and youthful lightness, amazing harmony of nature and architecture, "Czech melodious voice weasel" - out of all this is born romantic, elevate
Wise men say, the distance is not the problem, it's the condition of the road itself.
This is the world of tropical forests, magnificent mountains, underground caves, wide rivers and heavy waterfalls, hot deserts and the world's highest sand dunes.