Ski Resorts in Austria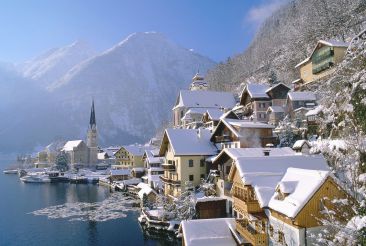 Austria is a cosy country situated in the very heart of Europe, at the foot of the majestic Alps. The country location secures its image of the best ski resorts land. Great resorts, breathtaking landscapes and a well-developed infrastructure provide a steady inflow of tourists from various countries of the world. Austria has a lot to offer – pure mountain lakes, snow-capped peaks, dense forests, mysterious caves, picturesque villages and of course, comfortable wooden lodges for travellers.

One of the best and most popular ski resorts is considered Sölden. Its ski area covers three peaks of 3 km high. It explains a variety of trails the resort offers: short steep slopes and long flattish slopes. Those conditions are ideal both for beginners and professional skiers. The town has everything for a luxurious resort: luxury hotels, restaurants, bars and night clubs almost near every tree. In Sölden you can plunge into a beautiful winter fairy-tale and visit a new Aqua Dome thermal complex.

And Mayrhofen ski resort is more popular among the young generation. Yet back in the 60ies of the last century this place became popular among Italian youth having turned it into a high quality ski resort. Since, Mayrhofen has changed a lot, but it is still a favourite area thanks to its 160 km long trails. Besides, it neighbours the first-class resorts like Kaltenbach-Fugen and Hintertux. Mayrhofen is a great resort with the ice skating ring in the town center, Aqua Park and very comfortable and safe trails for kids. The town streets are very tidy and clean, and car parking areas and routes in the forests are well identified for tourists. So, hiking tours can be enjoyed there in the same way as skiing. Thanks to five comfortable lifts recently built in the resort, the start of runs can be reached from any corner.

The resort Zell am See is located on a picturesque bank of the beautiful Alp lake Zeller, known for its clear water. The streets are always a venue of fun: festivals, contests, fire-works and shows. The resort is a great place for youth and for those who like night life. Beside great ski trails, the resort can offer various entertainments: hotels, restaurants, night clubs, bars and cafes. Tourists believe that women like the resort more than men. A limited number of trails explains that. Therefore, for a change you can ski on the neighbouring slopes. Only 15 minutes away from Zell am See there is a renowned Kaprun resort with the great high speed slopes. Only well-trained and experienced skiers can enjoy those runs down. One should remember, the majority ski resorts in Austria are open mainly from mid-November to mid-April.

Austria is a favourite retreat venue for ski extreme lovers and healthy lifestyle fans, as well as for those who like interesting excursions and scenery landscapes. So, even if you are not a die-hard skiing-fan, you can surely find what to do there.
Original language
Читайте также
A city under the volcanic ash, hardened lava, abandoned houses... The atmosphere of chaos and fear still reigns in this area.
Southern continent never ceases to amaze us, civilized people accustomed to comfort and all sorts of innovations in science and technology, their originality and exoticism.
Nowadays travelling to the countries for doing shopping in local shops is one of the most popular kinds of tourism.