Bürgenstock – summer in the mountains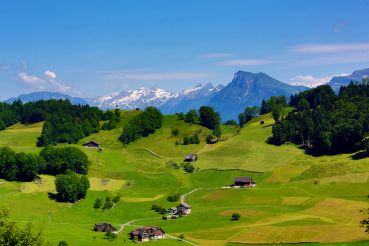 Among the Alpine peaks in the heart of Switzerland, a unique resort is located. Bürgenstock has always been famous for its beautiful scenery, an abundance of fresh mountain air, and tranquillity. Despite the fact that such big cities as Zurich, Basel, Bern and Geneva are located only a few hours' drive from the resort, it is always quiet and peaceful there. It is a perfect place for a summer vacation.

Locals tell an old and interesting legend about their region. Once upon a time, God created the earth and sent his angels to fill lakes and rivers. And when an angel flew above the Alps, she admired the beauty of the landscape so much that caught on one of the peaks spilling over the valley a vessel with the precious liquid. This is how Lake Lucerne was born.

Bürgenstock resort is located on a hilly green island, which is washed by the waters of Lake Lucerne. Located at an altitude of about one kilometre above the sea level, it has fresh air with special healing power. It has beneficial effects on the nervous system and returns a peaceful night's sleep.

Of course, walking outdoors is the most popular thing you can do there, but not the only one. For example, in a local stable you can take a horse and enjoy the beauty of wildlife when riding. You'll also have opportunity to go by boat or yacht on the lake. Local hotels offer tourists to take mountain bikes, some of them for free.

Bürgenstock is also famous for its attractions. One of them is a unique speed elevator built on the rock. Elevator leads to the summit of Mount Hammetschwand, its height is 1132 metres above the sea level. You'll need just a minute to overcome 152 metres of the elevator and find yourself among the clouds. Here, on top of Hammetschwand, there is a restaurant where you can taste masterpieces of European cuisine and admire the magnificent views of the lake. Another no less interesting attraction of the resort is its old cable railroad. It goes from the pier to the centre of the town. The road was built in 1888, but still safe.

A 20-minute drive from Bürgenstock, the city of Lucerne is located, where trains from Bern, Zurich and Basel go. From Lucerne to the resort you can get by land as well as by water – by taking a journey on boat.
Original language
Читайте также
The land of Sri Lanka lay in South Asia not far from the Hindustan coast.
Argentina - home of the most passionate tango. Annually in its capital, the glorious city of Buenos Aires, millions of tourists come to enjoy the atmosphere of heady freedom and creativity.
It's quite hard to find more romantic country than France. Everywhere you feel love and unbridled desire to live enjoying every day. Spring in Provence is especially beautiful.