ARTICLES
Articles total: 82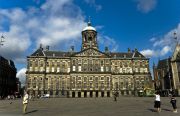 Where to go in September
05 July
Summer is over, but that's no reason to be sad. On the contrary, in front of the velvet season - a time when the sun does not burn its rays, when the water is still warm and the sea with a fresh breeze blowing. The fall of many of the world resorts ar
Читайте также
Argentina - home of the most passionate tango. Annually in its capital, the glorious city of Buenos Aires, millions of tourists come to enjoy the atmosphere of heady freedom and creativity.
How about spending your summer beyond the Arctic Circle? The Barents Sea and the Norwegian Sea meet there, in the country of majestic fjords and fantastic sceneries. Northern Norway is the territory of the midnight sun and magical aurora.
The magazine «National Geographic», authoritative international edition in travel, I decided to find out which corner of the earth can be described as the most beautiful. The competition is 115 best hiking trails.